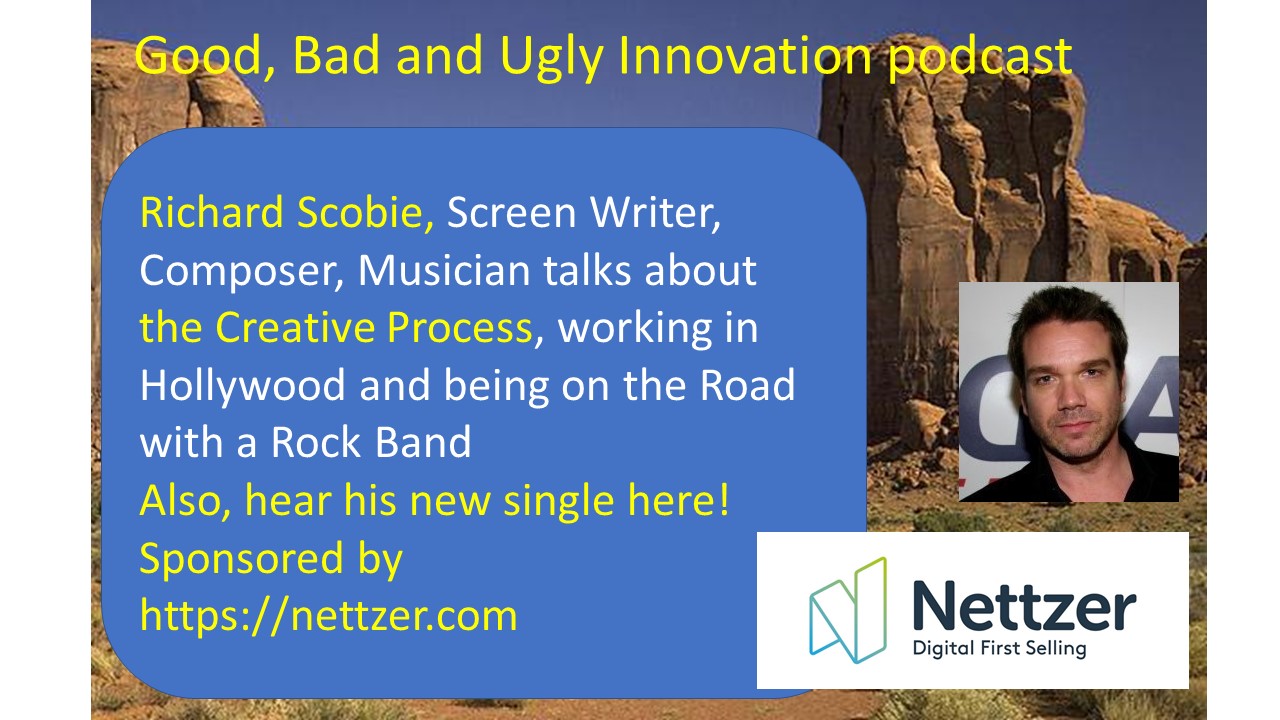 The Innovative or Creative process can take many forms and this week we are talking with someone who is at the centre of a number of Artistic worlds.
We have a fascinating guest with Richard Scobie.  I don't think that I have met such a multi-talented man previously, if Richard doesn't mind me saying so.  Richard, in his career, has been a successful Musician, Composer, Screen Writer, Director, Voice Over Artist and Teacher – among other things.
We talk about Richard's career touring Europe with a Rock band and then also his career in Hollywood as a Screen Writer.
What I found interesting is Richard's insights on the creative process of Screen Writing and how he works to bring his ideas to life.
And we also play out with Richard's new Single which has just been released and its an energy filled song that you will enjoy.
This is a lively and fun podcast and I hope you'll enjoy it as much as we had recording it.
Spoiler Alert:  We have a good discussion about Breaking Bad revealing plot details if you haven't seen it.
Contact Richard at:   scobious@gmail.com
Music Credits:  Morricone, Richard Scobie and John Flynn
---
This Podcast is sponsored by Nettzer – Digital First Selling  - www.nettzer.com 
During these times of Covid and falling Telco Sales -   Digital First Selling is the answer to new Customer Acquisition, increasing revenues and cost reduction
If you are a Telco, an MVNO, or an eSIM provider we have the ideal Digital First Selling-as-a-Service solution for you.
The Nettzer Digital First Selling solution:
Enables you to sell and onboard new customers remotely
It will integrate with your BSS/ OSS systems and with Salesforce
And we meet all regulatory requirements
Contact pat.flynn@nettzer.com so that we can understand your issues and provide you with the best solution.