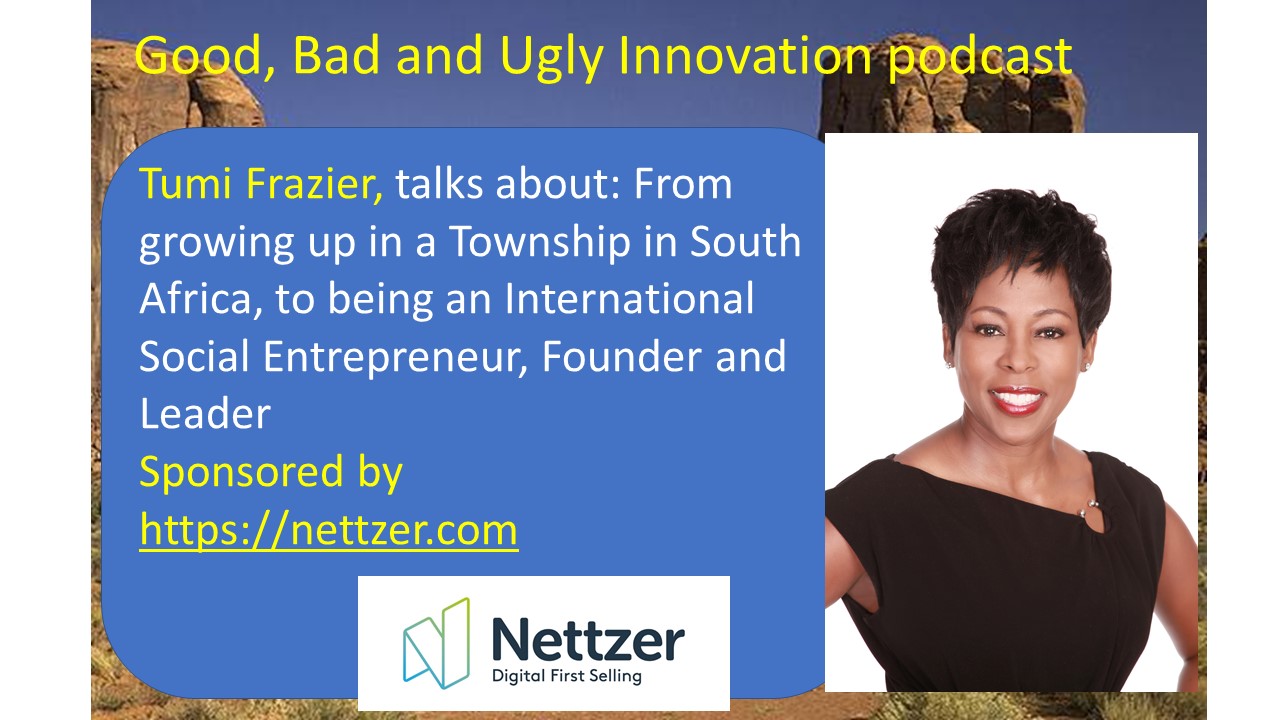 Sometimes you meet someone who surprises you by their personality, their achievements and their vision – and we definitely have such a person on this podcast.
I'm delighted to present the remarkable, Tumi Frazier, who having been raised in a poor township in South Africa, by her own self will and education, is now an International Social Entrepreneur making a difference in South Africa and the USA.
Tumi Frazier works with female entrepreneurs in Africa to help them move from survivalist entrepreneurs to building high earning and scalable businesses that create employment in the continent.
She also is working with Corporations in the USA to help promote diversity in hiring and promotion, using technology to analyse their hiring and promotion patterns and to adjust their policies to increase the range of minorities who can contribute to the company's growth.
Tumi talks about how she was helped through her High School and University Education by building relationships with supportive mentors. 
I found Tumi to be a very remarkable and inspiring person whose infectious energy and leadership is making a difference today and she plays out on a very inspiring song.  I know that you'll enjoy this podcast.
Music Credits:  Morricone, John Flynn
---
This Podcast is sponsored by Nettzer – Digital First Selling  - www.nettzer.com 
During these times of Covid and tougher Telco Sales -   Digital First Selling is the answer to new Customer Acquisition, increasing revenues and cost reduction
If you are a Telco, an MVNO, or an eSIM provider we have the ideal Digital First Selling-as-a-Service solution for you.
The Nettzer Digital First Selling solution:
Enables you to sell and onboard new customers remotely
It will integrate with your BSS/ OSS systems and with Salesforce
And we meet all regulatory requirements
Contact pat.flynn@nettzer.com so that we can understand your issues and provide you with the best solution.